In 2020 we were delighted to welcome Anastasia Reay, to the Dyer team. Those familiar with our business will know that, despite the challenges of the past 12 months, we have continued to work hard through the pandemic to meet our aspirations for growth and reinforce our reputation as leading North East fabrication specialists.
This, of course, involves expanding the Dyer Engineering family to resource our growth and bring new expertise, fresh energy and a positive mindset to the business. In Anastasia Reay, we are proud to say that this is certainly the case.
At Dyer, Ana joined the team to work closely with our clients as Customer Service Co-Ordinator, working alongside the sales and estimating team, as well as our Key Account Manager. We believe this role will help to ensure that our clients continue to enjoy an efficient and personal service.
Previously, Anastasia (or Ana as she is known to the team) has worked in a range of North East hospitality roles while studying at university. She also has almost a decade of engineering experience under her belt. Before joining the team of manufacturing specialists at Dyer, she worked at the engineering firm GT Group.
"I gained a vast amount of experience at GT Group, having worked in a variety of roles such as Business Administration, Marketing, Logistics and Accountancy," says Ana.
As well as believing in digital innovation in engineering and quality craftsmanship, here at Dyer we also pride ourselves on delivering exceptional customer service, which is why adding new talent within our customer-facing roles is critical to our business's ethos.
For Ana, Dyer Engineering was the obvious choice when it came to seeking a new opportunity within the engineering industry. She explains that she heard "a lot of positive things about the company" during her years studying and at GT Group.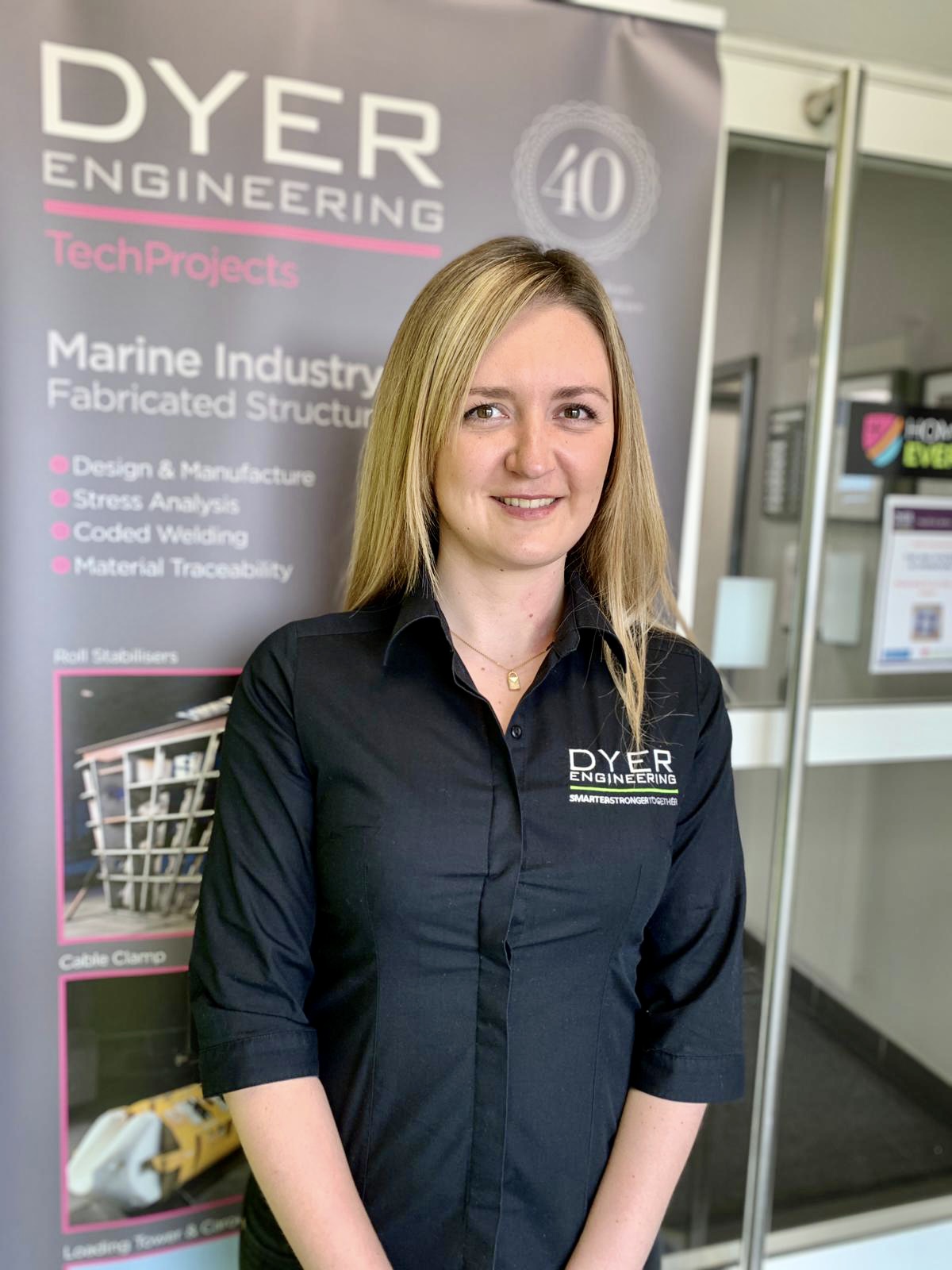 "Working in the engineering sector you become familiar with some of the other businesses in the industry over time. Dyer has retained a strong reputation in the industry for many years now and so when my previous workplace closed and an opportunity opened at Dyer, I immediately applied for the position."
In the time she has been working at the business, Ana says she has been made to feel like part of the family: "I instantly felt welcomed by all at Dyer, and the transition from my old place of work to Dyer was very smooth."
Ana was also pleased to find some familiar faces in her new role: "I was very happy to see some of my old colleagues from GT Group who had also joined the growing team at Dyer. I really enjoy being able to continue working with them, too."
Asked about Ana's addition to the Dyer Engineering team, Sales and Marketing Director Lee Farms said:
"I couldn't have been happier to have Anastasia joining the team, and to see her doing so well in her role. I'm a firm believer that, as well as being manufacturing and metal component specialists, Dyer are also pioneers when it comes to the future of engineering. We need to be constantly evolving in order to meet new demands and reach new levels of quality – which includes a commitment to outstanding customer service.
"I am confident that through the appointment of talented and hardworking individuals like Anastasia, the business will continue to go from strength to strength."
Dyer's willingness to expand and evolve is what makes it the business it is today. By being Stronger Smarter Together, we aim to deliver the very best services every single time, from the most experienced North East fabrication specialists.
To find out more about our work, why not get in touch today