It was a day that Daniel Bishop, Cameron Borthwick and Jack Henderson will, in their own words, "never forget".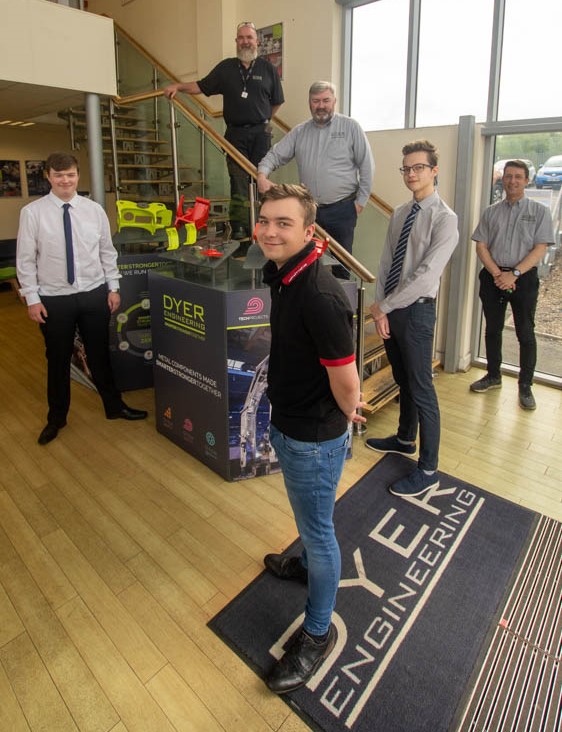 As New College Durham students, Daniel, Cameron and Jack each applied to be welding fabricators at Dyer Engineering. They thought they were attending a second interview to decide upon the successful candidate, but Dyer Engineering had a surprise for them.
Over the course of a week in May, Dyer Engineering had welcomed several welding fabrication students to visit the business and tour the site, with the prospect of joining our team of metal fabrication experts. Although the students believed that only one vacancy was open and that they would be competing for a single role, our recent growth meant that all three impressive candidates would ultimately be offered positions.
To add a bit of excitement to the process, New College Durham were asked not to disclose the good news too soon, and so Daniel, Cameron and Jack were unaware that they had already secured employment when they were asked to attend a second interview on 28th May 2021.
When all three students were in attendance, Adam Black of the leadership team told them that there was in fact, no second stage interview; and that they'd all been successful in securing their future with the Dyer Engineering apprenticeship programme.
All three successful candidates were thrilled, saying it was "such a special day" and that "none of us had any idea what was going on!"
Smarter stronger together: new welding fabricators at Dyer Engineering
Here at Dyer Engineering, our mantra is Smarter Stronger Together. We believe in doing our part to secure the future of engineering, and this involves giving talented and passionate individuals the opportunity they need to take their first steps on the career ladder.
Existing members of the Dyer team had their own words of encouragements for our latest recruits.
Quality Engineer Ryan Malone told the candidates that "Nine years ago, I was in the exact same position as you are now. I was offered an apprenticeship role within our Jobshop division, and I was a lot more nervous than you! Over time, I found myself building not only my engineering knowledge, but growing as a person as well. I stuck in and managed to achieve Apprentice of the Year in my first year."
"Dyer noticed my dedication straight away, and have really looked after me and funded all my qualifications, including my HNC and Foundation Degree."
"Dyer will look after you if you put the work in. Over the next four years, always ask questions and take pride in the work you do. You'll go a long way!"
Adam Black Production Supervisor at Dyer also had his own words of wisdom to share with the apprentices, saying: "this is a huge opportunity. Stick in, make the most of it, but most of all, enjoy it!"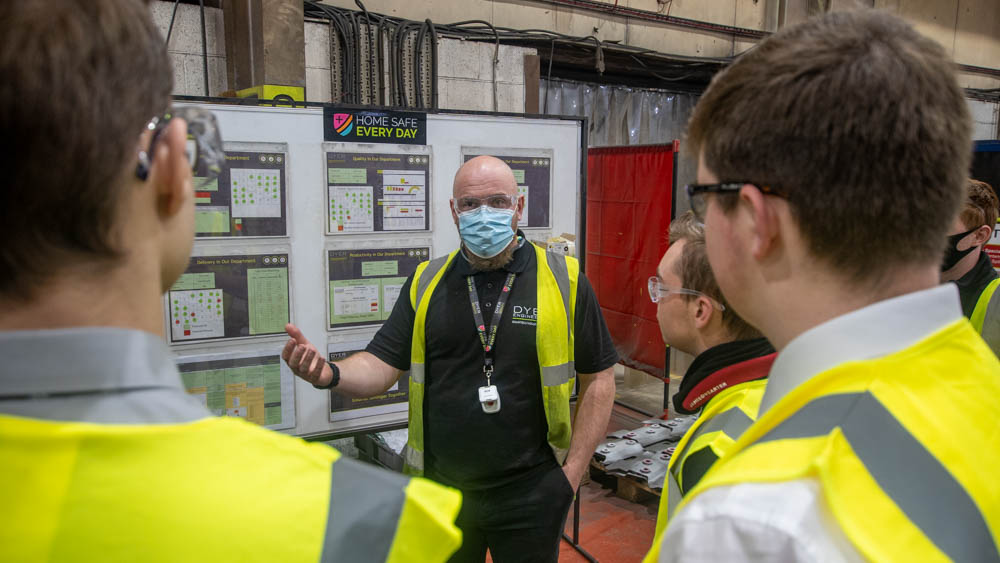 Dyer Directors elated with additions to the Dyer Apprentership scheme:
Managing Director Graeme Parkins also offered his congratulations to the new team members: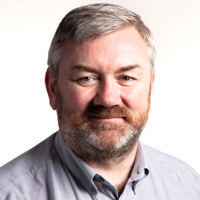 "I couldn't be happier to welcome Daniel, Cameron and Jack onto the team as our new welding fabricators. Both myself and [Operations Director] Leigh Foulger came through similar apprentice programmes back in the day, which just goes to show what can be achieved if you work hard, hone your skills, and work Smarter Stronger Together."
Sales and Marketing Director Lee Farms welcomed the appointments by saying: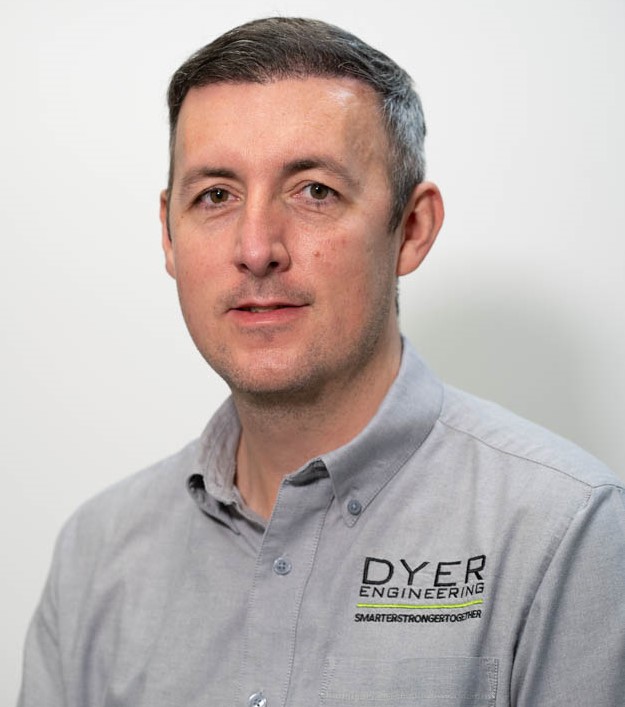 "At Dyer, we believe in hiring and developing great people with great desire and passion for the industry. In all three candidates we see bright futures ahead, and I'm excited to see their development in the coming years ahead."
Finance Director Richard Bradley congratulated all three candidates on their success, saying:
"Dyer is a forward-thinking company, and we need apprentices to build and sustain the business for the future. I'm thrilled to have all three lads on board, and can't wait to watch both their skills and confidence develop during their apprenticeships."
The Dyer Engineering partnership with New College Durham
Regarding three of their students securing roles at Dyer, two of the instrumental members of the New College Durham leadership team shared their thoughts with us:
Director of Apprenticeships, Sharon Bennett told us:
"We are delighted on the successful outcome for our learners securing apprenticeships with Dyer Engineering, this is a fantastic opportunity for them to gain valuable skills for a successful and rewarding career.  New College Durham look forward to building on the current relationship with Dyer Engineering on the delivery of apprenticeships."
Course Leader and Lecturer Christopher Dawson said:
"It has been a pleasure to work with Dyer Engineering and put forward students from NCD for apprenticeship interview.  It is pleasing that Dyer Engineering are supporting apprenticeships with development plans and training to develop the skilled Fabricator / Welders of the future.  It's a privilege to work with and support a local company."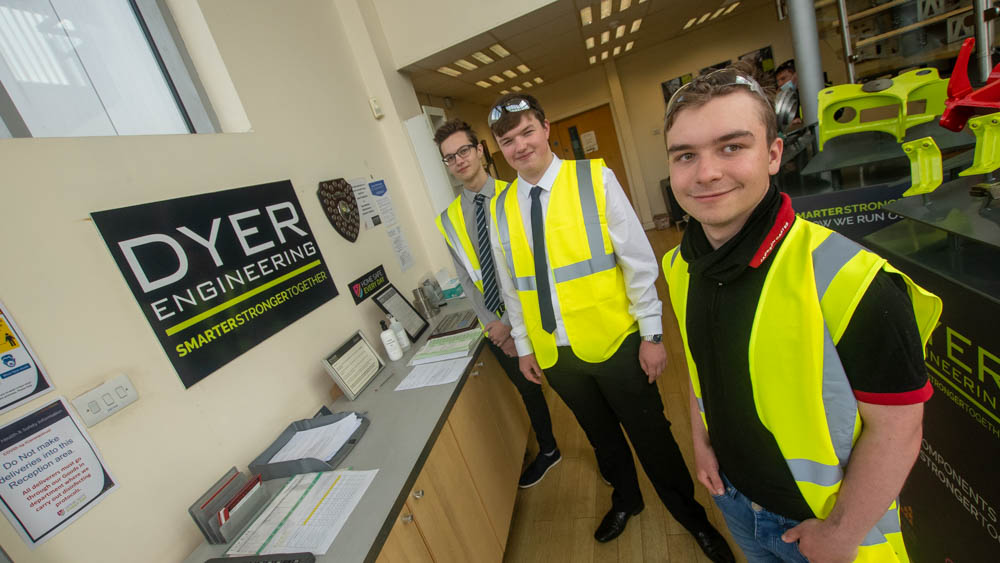 ---
Find out more about the engineering services and welding fabrication jobs on offer at Dyer Engineering by clicking here.